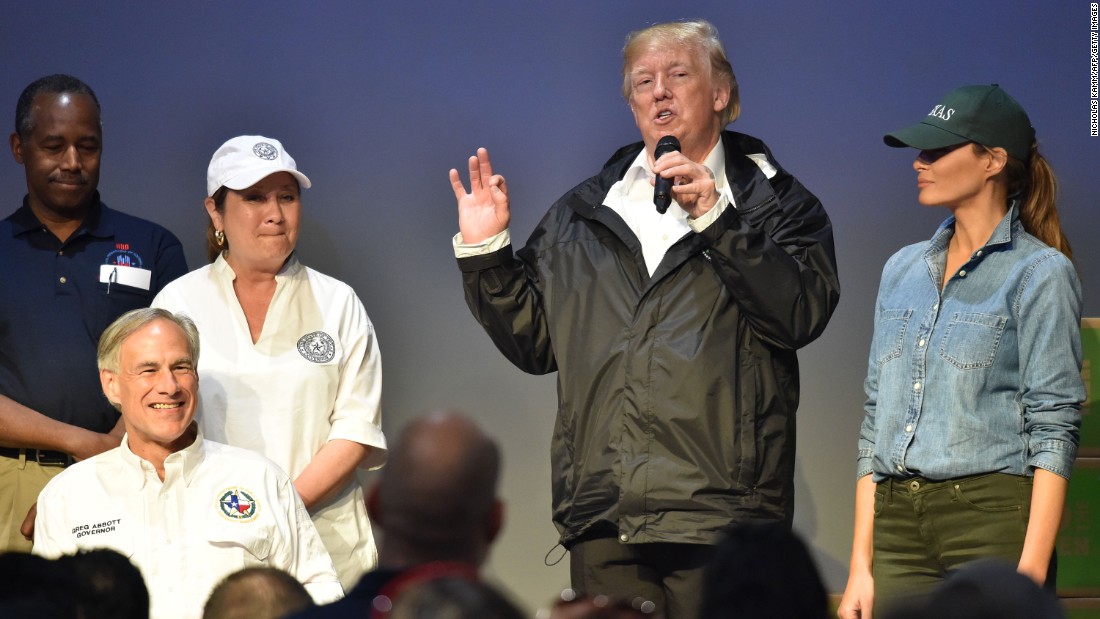 (CNN)You may have noticed that President Donald Trump has a tendency toward hyperbole. Everything he touches or is associated with is the biggest or the best or a record-breaker of some sort. Up to and including, apparently, natural disasters
"The devastation left by Hurricane Irma was far greater, at least in certain locations, than anyone thought – but amazing people working hard!"
Big devastation! More than people thought!
This morning's tweet is far from an isolated incident. Time and again over the two-plus weeks in which Hurricane Harvey devastated Houston and Irma slammed into Florida, Trump's Twitter feed has featured a steady stream of superlatives about the size and impact of these storms.
"Hurricane Irma is of epic proportion, perhaps bigger than we have ever seen,"
Trump tweeted on September 8
. "Be safe and get out of its way,if possible. Federal G is ready!"
And again that day
: "Many people are now saying that this is the worst storm/hurricane they have ever seen. Good news is that we have great talent on the ground."
On August 26,
Trump tweeted
: "Wonderful coordination between Federal, State and Local Governments in the Great State of Texas – TEAMWORK! Record setting rainfall."
"Storm turned Hurricane is getting much bigger and more powerful than projected,"
Trump tweeted on August 25
. "Federal Government is on site and ready to respond. Be safe!"
"Unprecedented." "Epic." "Historic." "Record setting."
You get the idea.
Now, in Trump's defense, Harvey and Irma were record-setting storms. Harvey was the single largest rain event in American history. Irma was the first hurricane to maintain Category 5 status for three full days.
And, if you are a Trump ally, you could theoretically justify his repeated hyperbole as a strategy to scare people into doing the right thing: Evacuating. (Side note: I do not get people who don't evacuate. Like, do you think the storm is somehow going to miss just your house?)
That Trump carries over that approach to the storms testing his presidency shouldn't be surprising. At 71 years old, Trump isn't going to change his stripes — hurricanes be damned. Bigly.
Read more: http://edition.cnn.com/